It's arrived! The first day of school! Summer passed so quickly we had lot's of fun with the kids but I wish I'd had more alone time with Pixie! Now she is a big girl who goes to kindergarten.
I was very curious how it would go, this is her first time when she will spend all her day with so many kids. I knew that she loved her days at her nanny but there were only 3 other kids, not 30!
I tried to explain everything to her, which is hard since I don't really know the French system.
We had the chance to visit her school in June so we knew how the classrooms look, could show Pixie the bathroom, which sounds silly but it's very important for a little girl who's just learning how to use it alone ☺️
We even saw the cantine which was great because she got excited to eat with her new friends ar the small tables.
She is very picky so I'm still a bit afraid that she will be very hungry because she wouldn't like the food, but I'm sure she will learn quickly that it's better when she eats and I'm sure she will try to copy the other kids!
I made a little sign for her and we made some cute pictures at home and in front of the school as well. Pixie was the only one with a sign 😄 oh well, I'm the crazy mummy, but I'm sure it will make a great souvenir and she had so much fun! She even had multiple ones, French and English language signs! Yes, this happens when we are a multilingual family ☺️
The morning was great we were allowed to go in with her, and Manny was allowed as well! So it was a family event ☺
We checked out her classroom, Pixie tried out almost all the games! She was so happy.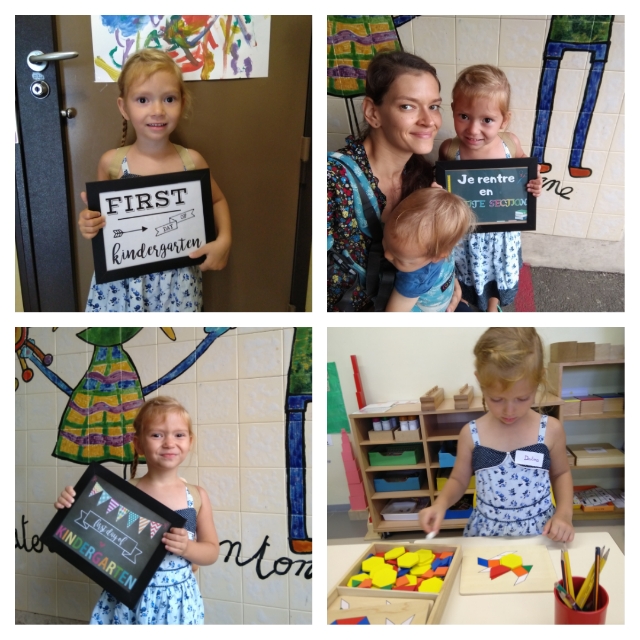 She goes to our public school but we were lucky because her class is based on the Montessori system. They have cute educational wooden toys, it's a mixed-age class. I'm so happy for her and extremely curious to see what they will do, how much she will learn. When she will start to speak more French.
For now, the most important thing is that she was happy when I picked her up, she was smiling she told me she paid a lot with her new friends!
Pixie was so excited to go on the second day!
I miss her so much but it's great to know she is having so much fun!
So curious about what she will tell me about her second day!