We loved our old Ergobaby, so much that we used it almost every day during the last 1,5 years. Although a few sites have 2 years warranty on it after this much use the material gave in.. I wasn't surprised at all, we used it in rainstorms, in the sunshine, we used it so often we knew it won't last forever. It's still functional, but it doesn't look nice anymore.
I was checking out the new versions but got so used to the original I wanted the same. I wanted one with a hood, and a little pocket, these proved useful during our longer hikes and walks. But in a different colour, having a black one wasn't the best during summer. Pixie and I both felt the heat and the black material added to it. I wanted some bright colour, light grey, or I liked the bright green one as well.
Since the Riviera is not a place where a lot of people carry their kids, lots of mums buy different carriers bit do not end up using them. It's very easy to get one second-hand in a very good condition. I was waiting for one to show up on the Facebook marketplace when we were walking around Lyon during our vacation and we stumbled upon a nice baby shop where they were selling their last piece of an old model with 50% discount. It was a very cute little shop, full of nice products from Aden and Anais, different versions of Ergobabies, some upmarket pushchairs. with their super promotion, the price was the same as of a used one. And the colour, it was meant for us, nice light grey it is called Dew Drop.
We didn't hesitate and bought it!
Although my husband doesn't care much about the looks, he was definitely happy to change our old ripped one to a new nice one in mint condition.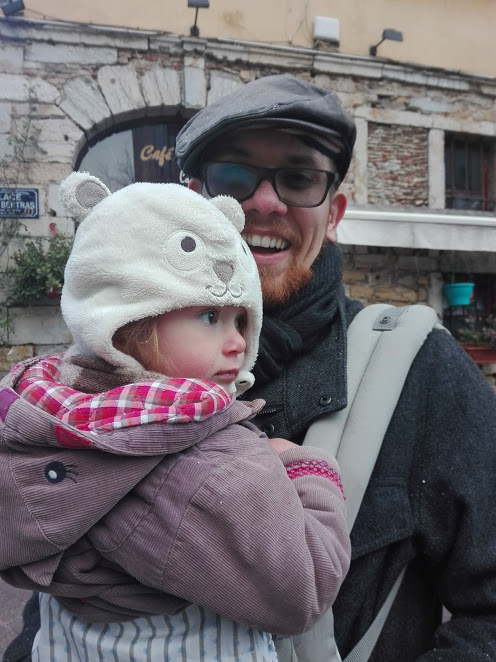 It's still not comfy for me to carry Pixie in it, since my big bump, but I cannot wait to try it out after my baby is born.