We had to fly to Budapest for a few days last year. Since Pixie just started kindergarten and she was just getting used to her new routine I didn't want to take her out from school and decided to go alone with Manny. I was a bit scared but it was relatively easy.
We took the train to the airport got through security easy. Manny wanted to explore and I realized that it will be a challenge.
He was running around in the waiting area. There were some few closed-off spaces and some designated queueing lines. So, what does a curious toddler do? Off course he just runs in there, he is small so he was able to pass under those stretch barriers. Once I tried to run around them but it took me too much time to catch up 😀 when it happened again I was climbing under them. It's so easy to get some exercise with a toddler! Our plane was delayed, by the end Manny got a bit restless but we managed.
Since he is under 2 he just set in my lap during the flight. We got an aisle seat which is great, we could stand up and walk around a bit. Manny was very tired he completely skipped his nap, didn't sleep at all during the day so I needed to entertain him.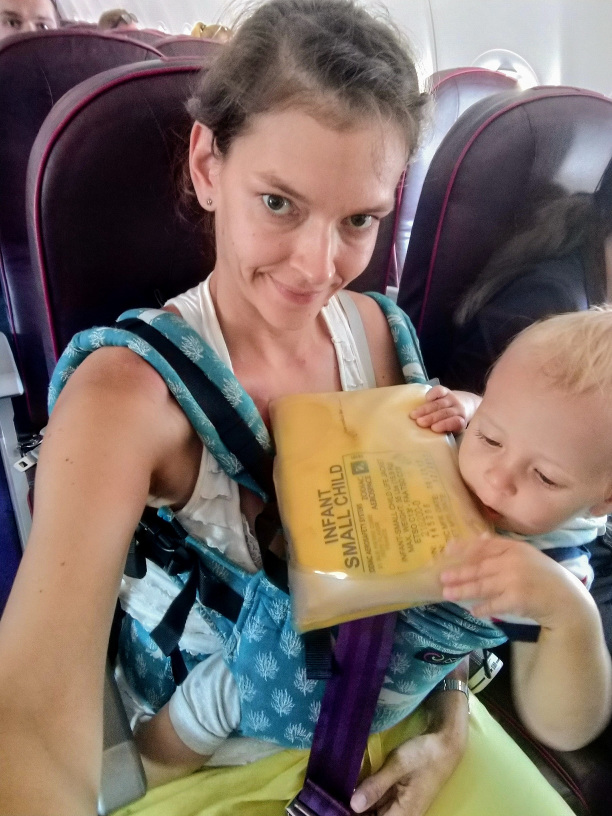 He is still breastfeeding which was a great help during landing, after strapping him in he just found comfort and quickly fell asleep. A few minutes break for mummy 😊
We didn't have much luggage. Just a checked-in bag and a backpack. I knew that I'll bring so much stuff back from Hungary I tried to travel as light as possible so I'd have enough space on the way back.
Flying alone with a kid was something I had to get used to. No help at the airport, going to the toilet with a kid and our bags, entertaining Manny alone during the entire flight. It wasn't easy but it wasn't that complicated either.
I guess I will fly a lot even with both kids in the future, with time I will learn this skill as well!